Mary Lee is a 16-foot, 3500 pound great white shark (Carcharodon carcharias) who is headed to Cape Cod, Massachusetts on a historic migration!!
She has been tracked since September of 2012 when she was tagged off of the Cape by OCEARCH, a Utah-based nonprofit organization that researches great white sharks and other large apex predators.
Here's WHY she's been tagged and tracked: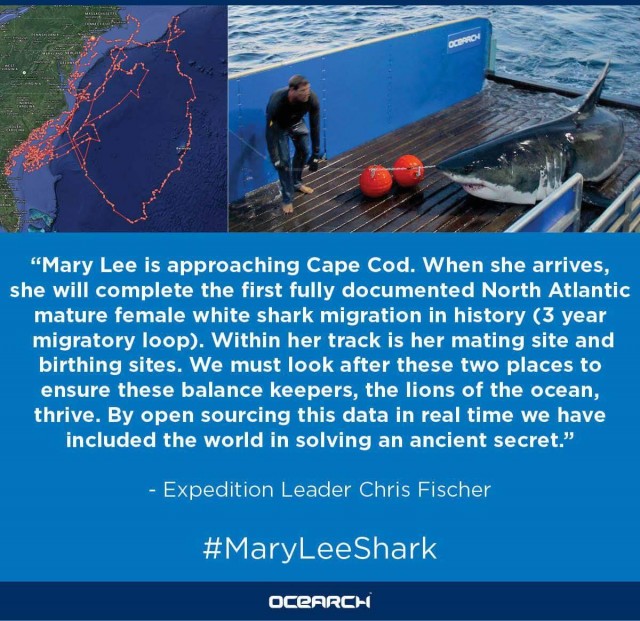 In a little under three years, she has traveled 20189.497 miles!!!! She must be getting tired!!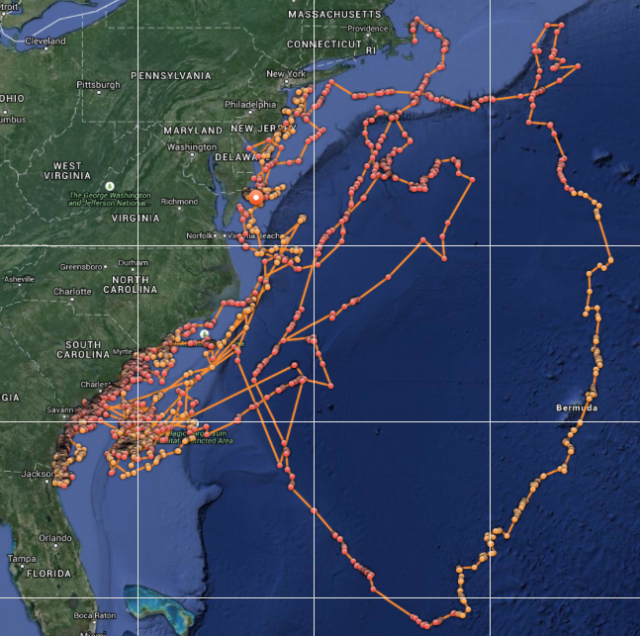 She even has an (unofficial) Twitter account: https://twitter.com/MaryLeeShark !! Almost 64K followers!!
You can find more MLS photos and videos at http://t.co/viR6w0qqhm. Of course I've put on a little weight since. -:() https://t.co/LkzXmQDuhP
— Mary Lee the shark (@MaryLeeShark) May 19, 2015
.@MaryLeeShark the poem I wrote u was pretty accurate but now you're going the wrong way! Turn around plz. @OCEARCH pic.twitter.com/XpYHueiYW4 — MA Sharks (@MA_Sharks) May 18, 2015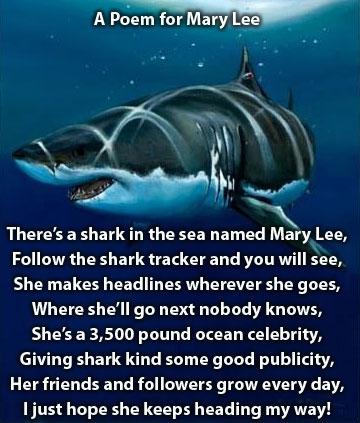 This is a photo of Mary Lee:
Q. WHAT HAPPENS TO THE DATA YOU'VE COLLECTED?

  A. The data is shared in an open source environment with collaborating institutions who utilize it to conduct studies that are eventually published in peer-reviewed scientific journals. The papers, which can take 2-5 years to publish, are utilized to assist in policy decisions. The data is also shared with all PhD candidates who request it.  
FOLLOW Mary Lee's journey HERE: http://www.ocearch.org/profile/mary_lee/
FOLLOW OCEARCH on Instagram: https://instagram.com/ocearch/
FOLLOW me, Pee-wee Herman on Instagram: https://instagram.com/peeweeherman/