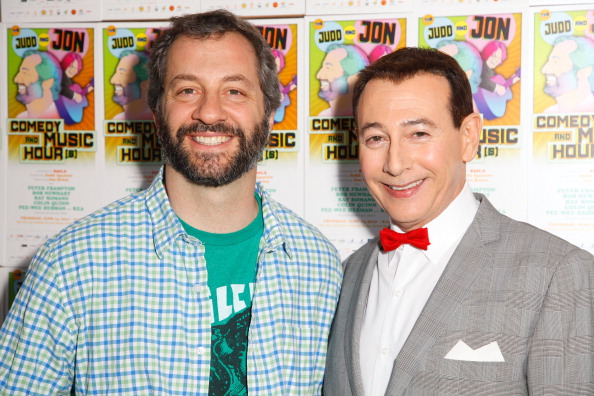 NETFLIX AND JUDD APATOW TEAM UP TO BRING THE WORLD PEE-WEE HERMAN'S NEXT BIG ADVENTURE
Pee-wee's Big Holiday, A New Feature Film By Paul Reubens and Paul Rust, Available Exclusively To The Global Membership of Netflix
John Lee Makes His Feature Film Directorial Debut, Beginning Production in March 2015
Beverly Hills, Calif., February 24, 2015–Netflix, the world's leading Internet TV network, will premiere exclusively in all of its territories the new feature film, Pee-wee's Big Holiday, starring Paul Reubens as the beloved fun-loving hero of TV, stage and film, Pee-wee Herman.
Judd Apatow (Anchorman, Bridesmaids) and Reubens, who worked together to bring the project to fruition, will produce the film. Reubens and Paul Rust (Comedy Bang! Bang!, Arrested Development) wrote the film. John Lee (Broad City, Inside Amy Schumer) makes his feature film directorial debut with production beginning in early 2015.
In Pee-wee's Big Holiday, a fateful meeting with a mysterious stranger inspires Pee-wee Herman to take his first-ever holiday in this epic story of friendship and destiny.
"We didn't hesitate for a moment knowing that Pee-wee's Big Holiday was such a passion project for Judd and Paul and we are delighted by the opportunity to introduce such a beloved character to a new generation," said Netflix Chief Content Officer Ted Sarandos. "We are thrilled to bring our viewers around the world the wonder of Pee-wee Herman."
"As a fan of Pee-wee Herman since he first appeared on The Dating Game, I am thrilled to have the opportunity to work with the brilliant Paul Reubens on this film. It is a dream come true," said Judd Apatow.
"Judd and I dreamt up this movie four years ago. The world was much different back then— Netflix was waiting by the mailbox for red envelopes to arrive. I've changed all that. The future is here. Get used to it. Bowtie is the new black," said Pee-wee Herman.
For more information, please read Pee-wee Herman's log (that's blog without the "b") at: https://peewee.com.
Paul Reubens created the iconic character, Pee-wee Herman, while a member of the famed Los Angeles improv group The Groundlings. The Pee-wee Herman Show premiered at The Groundlings Theatre on February 7, 1981 at midnight. It quickly moved to The Roxy on Sunset Strip where it ran for an unprecedented five months. The HBO broadcast of the show introduced Pee-wee to a national audience. Pee-wee Herman was brought to the big screen in the hit 1985 comedy Pee-wee's Big Adventure, which Paul Reubens co-wrote and marked Tim Burton's directorial debut.  Reubens went on to create, co-write and co-direct Pee-wee's Playhouse on CBS where the series earned 22 Emmy® Awards during its five year run.  Reubens has been nominated for 14 Emmy® Awards, winning twice. In January of 2010, Reubens starred in, produced and co-wrote The Pee-wee Herman Show which completed a critically acclaimed four week run at LA Live's Club Nokia in Los Angeles.  With the incredible success in Los Angeles, Reubens brought The Pee-wee Herman Show to Broadway which opened November 11, 2010 to rave reviews with The New York Times calling the show, "Yummier than chocolate;" New York saying, "Welcome Back, Pee-wee! You were sorely missed;" and the New York Post saying, "the audience screams for joy!" Three decades after his first HBO special, Reubens returned to the network with an exclusive version of the hit Broadway show.
Reubens has starred in a number of diverse film and TV roles, including 30 Rock, Pushing Daisies, Reno 911, Everybody Loves Raymond and Murphy Brown which earned him an Emmy® nomination. His film credits include Mystery Men, Buffy the Vampire Slayer, Blow, David O. Russell's dark comedy, Nailed, and Todd Solondz's Life During Wartime. In the world of animation, Reubens has lent his voice to many projects including The Nightmare Before Christmas, Star Wars Rebels, Robot Chicken, Family Guy and Smurfs. He is currently developing a variety show for television and appears in a recurring role on NBC's hit drama The Blacklist.
About Netflix
Netflix is the world's leading Internet television network with over 57 million members in nearly 50 countries enjoying more than two billion hours of TV shows and movies per month, including original series, documentaries and feature films. Members can watch as much as they want, anytime, anywhere, on nearly any Internet-connected screen. Members can play, pause and resume watching, all without commercials or commitments.
---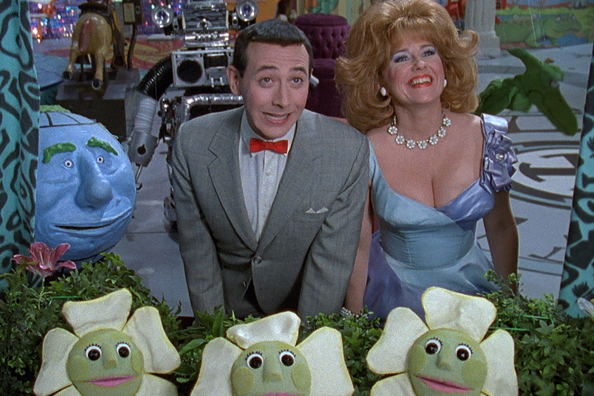 Pee-wee's Playhouse: The Complete Series on Blu-Ray!
TV Guide named Pee-wee's Playhouse #10 of the Top 25 Cult Television Shows Ever!
All 45 wacky episodes, plus Pee-wee's Playhouse Christmas Special, have been METICULOUSLY RE-MASTERED from the original film elements — and now YOU can see this ground-breaking series for the very first time in beautiful HIGH-DEFINITION!
Winner of an amazing 22 Emmy® Awards!
Scream along to the SECRET WORD with Pee-wee Herman and his pals — Jambi the Genie, Miss Yvonne, Cowboy Curtis, Reba the mail lady, Captain Carl, Magic Screen, Conky, Globey, Chairry, Pterri, Randy and many more! Aaaaarrrrrrrrr!!! I know you are, but what am I!?! Mecka-lecka hi… Mecka-hiney ho!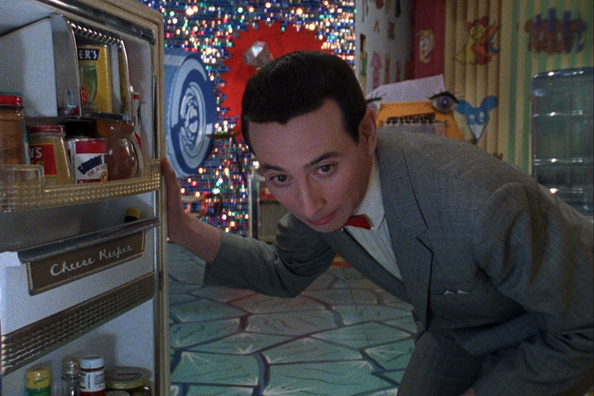 Bonus Features
OVER 4 HOURS of brand-new interviews with the cast and crew, plus never-seen, behind-the-scenes footage—all part of TEN FEATURETTES, including:
Building the Playhouse
Opening the Playhouse
Writing for the Playhouse
The Look of the Playhouse
Music of the Playhouse
The Cast of the Playhouse
Puppets of the Playhouse
Animating the Playhouse
A Very Merry Christmas Special
Fans and Memorabilia of the Playhouse
These featurettes include interviews with actors Laurence Fishburne (Cowboy Curtis), S. Epatha Merkerson (Reba the mail lady), Lynne Marie Stewart (Miss Yvonne) and John Paragon (Jambi the genie).
Mark Mothersbaugh and Danny Elfman explain the music of the show and the Emmy award-winning production design team of Gary Panter, Wayne White and Ric Heitzman explain how the sets and puppets were imagined and produced.
Animation Supervisor of all 5 seasons of Pee-wee's Playhouse, Prudence Fenton (Liquid Television) talks about all the types of animation used in the program and animators Peter Lord and David Sproxton (Wallace & Gromit) discuss their contributions.
Ve Neill, the multi-Oscar winning make-up artist talks about designing the make-up 'looks'. Two of the shows writers talk about how the scripts were created.
Other cast and crew explain, in fascinating detail, stories from the production of Pee-wee's Playhouse. If that weren't enough, many of the shows puppeteers and voice artists are interviewed about how the puppet characters were brought to life.