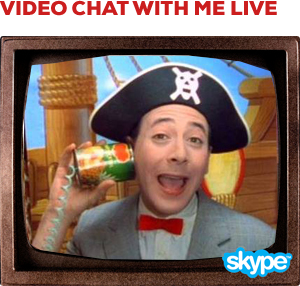 $49.99 per minute. Just kidding. FREE!
And by the way, what superstar of my magnitude, or actually, any star, of any magnitude, are you able to VIDEO CHAT LIVE with?! Nobody. Not one. EXCEPT FOR ME!!
Through the wonderfulness of Skype™, I will be video chatting on both pre-announced and random times with my cool fans and friends, YOU! Like Chat Roulette—without the nudity!
I'm looking forward to SEEING and TALKING with you soon!
Next Video Chat: TBD. Please check back and I will post more. THANKS!