This is an amazing invention… a Walking Bike!!
via Neatorama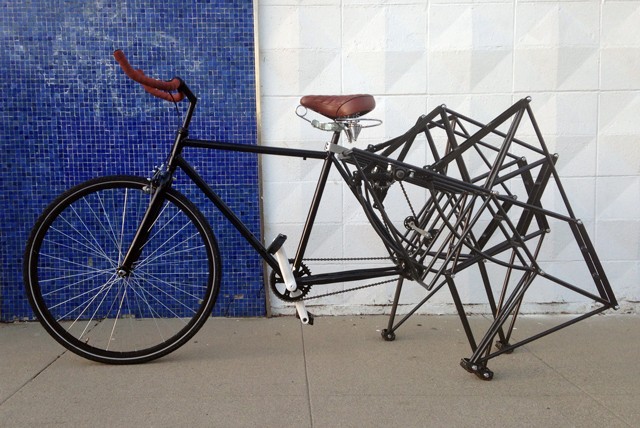 It was inspired by Theo Jansen's amazing Strandbeest kinetic machines which walk with the wind!
The creators of the Walking Bike, California-based J.P. Blaine Elliot, and Roy Wright worked together to attach legs to an ordinary bicycle.
They started by making this 3d prototype…
J.P. had an idea to adapt Theo Jansen's Strandbeest leg system to a bicycle.  He made a quick model and 3d print of the idea in Sketchup and showed it around to some friends.  Roy Wright came on board as the chief fabricator.  Soon after, Blaine Elliott joined the team and added his special attention to technical details.

We spent about 3 hours a night, on Monday through Wednesday each week, slowly progressing through layout, material buying, mockups, jigs, cutting, welding, and bolting.  In the end we had over 400 custom made parts, and couldn't believe the thing actually worked.
All in all, it took them six months and 1000 hours to complete! [Check out their entire build progress here.]
Here's what it looks like from behind: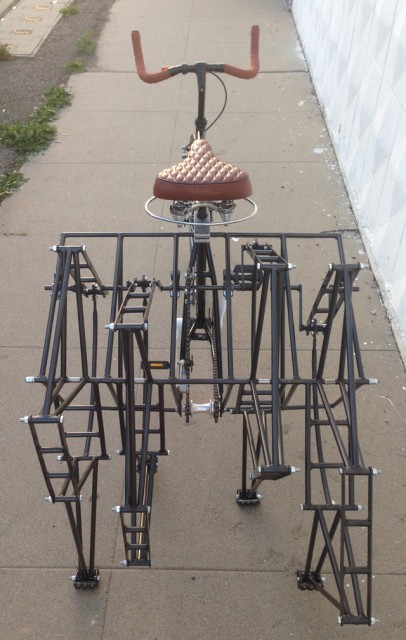 Unlike the Strandbeest machines, the Walking Bike doesn't use wind to move. It requires a bicyclist who must pedal… slowly.
Like so:
Isn't it amazing!?
By the way, if you're in the San Francisco area and like this sort of thing, be sure to check out the Strandebeest exhibit at the Exploratorium!
TGIF!!