Can you imagine using GIANT FLAMETHROWERS, TEXT MESSAGES, GOSPEL CHOIRS, and other UNUSUAL METHODS to connect America like a Rube Goldberg machine?!  A group based in California is going to attempt it in a few weeks! No one has ever tried it before!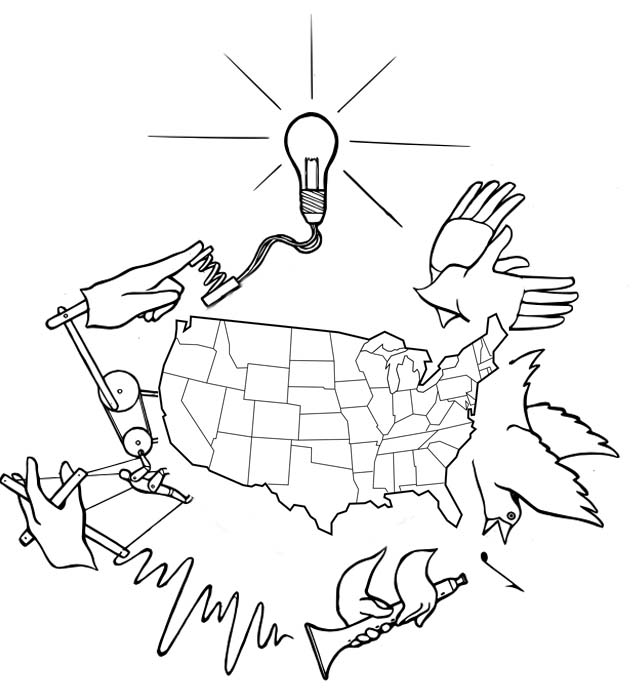 For the last five minutes of The Deconstruction, a 48-hour un-competition that happens October 14-16, a GIANT Rube Goldberg installation ACROSS AMERICA will be attempted! It's called "Common Ground" and you can help make it happen!!
A one of a kind, never attempted, work of conceptual kinetic art as big as America.

Artists from 4 cities will connect America through a massive collaborative connected installation of chain reactions, fire cannons, text messages, and gospel choirs.  Each individual installation will celebrate good things specific to each region, and also address contemporary issues.

Each regional installation is interconnected to the next through common communication mediums (like text messages or emails).  When one ends, it automatically triggers the next to begin.

The installation will run for 5 minutes and will be live-streamed in real-time as it crosses the country for the grand finale of Deconstruction.

A few days later we will release a video to the world of the result. "Common Ground" is designed to demonstrate what is possible when people around the country collaborate and work together.
via Make:
I hope they eat a good breakfast that day!!