This just in! Paul Reubens was a judge for EarthCam's Annual Top 25 Most Interesting Webcams Contest!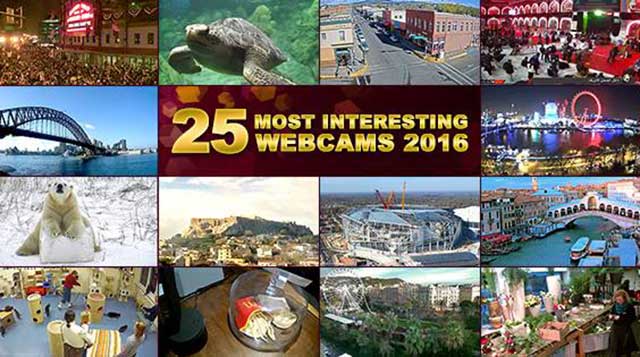 Out of ALL the HUNDREDS of cool webcams on EarthCam, 25 were chosen as the "most interesting" for 2016.
Spanning 14 countries, the 18th annual list of honorees includes a Romanian pub owner, a Swiss florist and an Iraqi imam. This year's eclectic mix of live webcams provide a virtual passport to visit legendary Acropolis in Greece, travel the intricate canals of Venice and spy on the sleepy streets of Silver City, New Mexico. Feeling hungry? Step inside the kitchen of Dauphins Restaurant in Mobile, Alabama, where the chefs are no doubt whipping up their French Creole specialties. For architecture fans, live webcams at NFL Mercedes-Benz Stadium are the perfect way to get exclusive behind-the-scenes access to the ongoing construction progress and see exactly what it takes to build today's massive high-tech stadiums.

Head to Wrigley Field and visit the live webcam that captured the moment Chicago Cubs fans will never forget as their team was crowned the 2016 World Series Champions. For unforgettable scenic views, join tourists as they experience the EdgeWalk outside the CN Tower, 1,207 feet above the city of Toronto. Visit iconic landmarks including the London Eye and Krabla Holy Shrine in Iraq. Are wildlife cams at the top of your list? You're in luck! Fall in love with Henry, Ganuk and Inukshuk at the Cochrane Polar Bear Habitat in Canada. An animal shelter in Estonia sheds light on the importance of adoption, while also providing streaming video of its playful resident cats. Iceland delivers the weird factor this year, with a live webcam tracking the decomposition of the last McDonald's hamburger served in the country in 2009.
TAKE A LOOK:
See the entire list, in alphabetical order, on the EarthCam site.