Christmas is coming up fast and Santa's got too much to do by himself! Luckily, there's a way you can help!
For over 100 years, the United States Postal Service has been getting letters from good little boys and girls addressed to the big man himself, Santa Claus.
Like this one: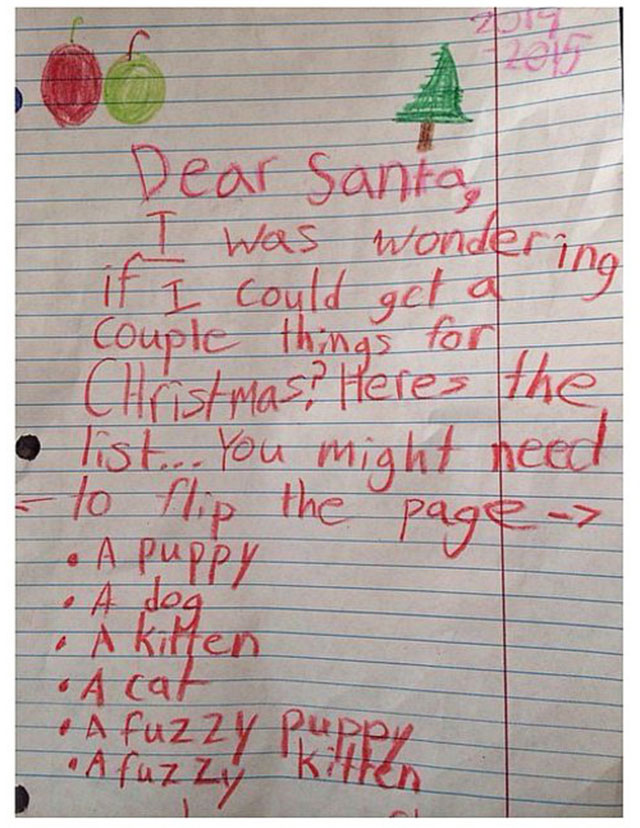 In 1912, Postmaster General Frank Hitchcock began allowing postal employees and citizens to respond to the children's letters. By the 1940s, community organizations and other groups were penning responses to the little ones too.
This cool service is called Operation Santa and it still exists today!
Here's the fun part, in certain U.S. cities ordinary people can "adopt" a Santa letter by either responding to the note or fulfilling the children's Christmas wishes!!  That's right, you can choose to adopt a letter and send the children toys! How fun is that?
Read ALL ABOUT the program and how you might get involved HERE. 
Hurry though!! Christmas is ALMOST HERE!
p.s. Please don't send a puppy, a dog, a kitten, a cat, a fuzzy puppy, OR a fuzzy kitten!
Oh yeah and TGIF!!