Well, this is neat! Using the new Skin Motion app, you can LISTEN to these special augmented reality Soundwave tattoos!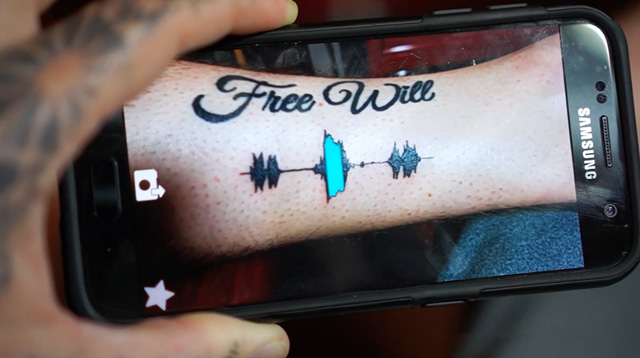 Watch and LISTEN:
Is it real? 
So, according to the Skin Motion website, this is how it works:
A person uploads or records the audio they want into the app or website. We generate the Soundwave from that. The person takes the generated Soundwave to a tattoo artist from our Artist Network. Artists need to be licensed in order to make sure they understand the limitations of the technology and how that applies to tattoo placement, size, and changes to the design of the tattoo from a simple Soundwave to make it more custom or elaborate on it for the person. Once the Artist does the tattoo, a photo of the tattoo is uploaded to our platform. Our platform processes the audio and tattoo and adds it to the app. When the user opens our app and points the camera on their mobile device at the tattoo, it recognizes the shape of the Soundwave and plays back the audio.
If I'm understanding this correctly, that means the app doesn't actually read the actual waveform on a person's skin. The tattoo triggers the audio file to play in the app. So, it's kind of like an augmented reality magic trick or interactive skin art!
If you're interested in getting one of these tattoos, the Skin Motion app will be released in June 2017. Get on their mailing list now.
Speaking of tattoos, have you visited my online tattoo gallery lately?