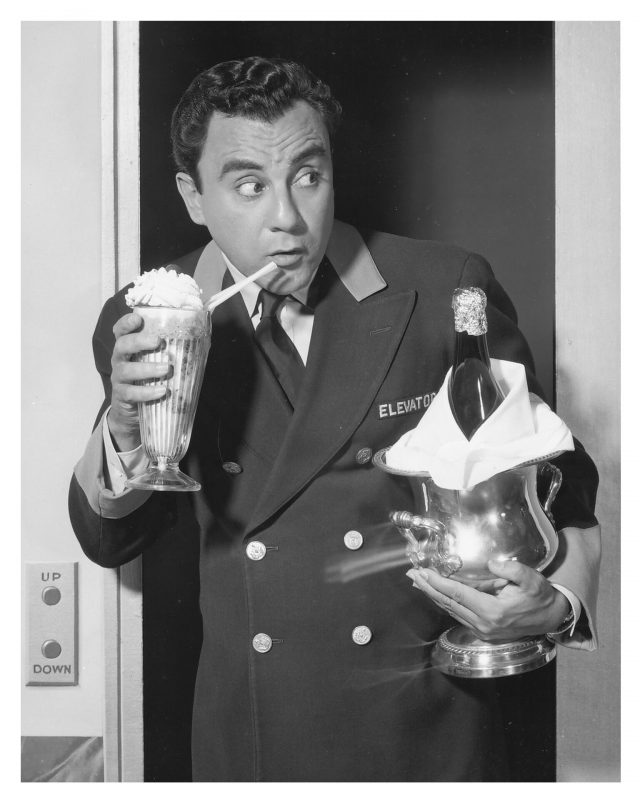 When I was a little kid, I remember seeing José Jiménez on The Ed Sullivan Show and falling in love with him. There was such a joy and innocence to José Jiménez. I thought he was extremely funny and unlike anyone I¹d ever seen. I connected with him on a deep level.
After a few more appearances on the show, I somehow became aware, as a four-year old, that he was a character played by a man whose name was really Bill Dana. That¹s one of the very first times in my life I was floored.
Many, many years later, I walked into a huge autograph show and across the room, directly in front of me, sat a man with a name tag on his table that said "Bill Dana." As I walked toward him, I had a flashback to being very young and loving José Jiménez– and I had a crystal-clear realization that I could draw a straight line from seeing him as a child, to me becoming Pee-wee Herman. I blurted this all out and how excited I was to meet him.
What an amazing honor to have then had the pleasure to become friends with Bill. He was a true legend. A maverick. And one of the very nicest people in show business. He was clever and smart. Hilarious. Sweet. Happy. In love. Genuine, kind, and one-of-a-kind!
I know he knew how much I admired him, was influenced by him and loved him. Now you know too.
I'm gonna miss him a lot.
—Paul Reubens
---
The first appearance of "José Jiménez," November 23, 1959 on The Steve Allen Show
Here's more about Bill Dana playing 'José Jiménez' in the early days by Jenni Matz, the Director of the Television Academy Foundations' Archive of American Television:
The character literally rocketed to fame. Bill's 1961 comedy album was the backdrop to the Space Race at its height. The Mercury 7 Astronauts would play the José routines as they prepared for their mission.

Bill delighted to learn that the first words spoken on May 5, 1961 from Deke Slayton at Mission control to Alan Shepard blasting off into space were: "Ok, José, you're on your way!" which thereafter entered the national lexicon. In 1966, Bill was proudly named America's first "Honorary Astronaut" by the Aerospace Society and in 1981, "José the Astronaut" was included in the Smithsonian Air and Space Museum and later enshrined at the United States Astronaut Hall of Fame in Florida.

Bill cherished the character. More than an alter ego, Bill always saw José as a fully-formed human being. When Danny Thomas offered to try José out as a flesh-and-blood character on The Danny Thomas Show, Bill embraced the opportunity. Gaining even more exposure and popularity, Bill performed at the hungry i, the Ruban Bleu, the Blue Angel, the Bon Soir…even at John F. Kennedy's Inaugural Gala. He recorded 8 best-selling comedy albums, made 17 appearances on The Ed Sullivan Show, 6 appearances on The Tonight Show Starring Johnny Carson, appeared on The Hollywood Palace, The Smothers Brothers Comedy Hour, The Milton Berle Show and even did a "window cameo" on Batman. José/Bill were ubiquitous on 1960s television screens. His wide-eyed visage was pictured on everything from billboards to Playboy spreads.
Read the rest of this tribute to Bill Dana at the Archive of American Television.