This is Mochi "Mo" Rickert, a St. Bernard living in South Dakota.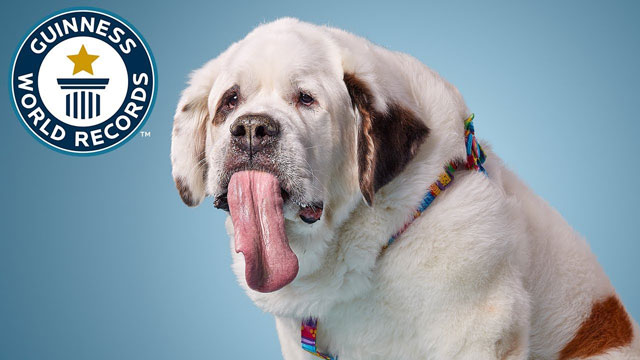 According to the Guinness World Records, Mochi has the LONGEST TONGUE on a DOG! It measures 7.3 inches!
Her human companions Carla and Craig Rickert "got their extraordinary, peanut-butter-loving pooch from Big Dogs Huge Paws rescue home when she was two years old."
"With this record, we hope to bring attention to how much joy rescued animals can bring to their new family," said owner Carla.

"Mo is resilient, comical, loving and eternally grateful and loyal to us – her forever family. This once abused and neglected pup has taught us that it's okay to be different. We are proud of her unique feature."
Mochi even made the COVER of Guinness' new book, Amazing Animals!