Stop what you're doing and watch* this AMAZING "Wizard of Oz" pep rally by the incredible student dance team at Walden Grove High School in Sahuarita, Arizona!! It's wonderfully entertaining! Kudos to you all!!
A special shoutout to the choreographer, coach Kristi Lopez! Those are some seriously cool moves!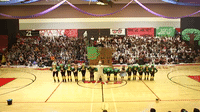 *It looks best on a larger screen… if you have a tablet or desktop, try that!