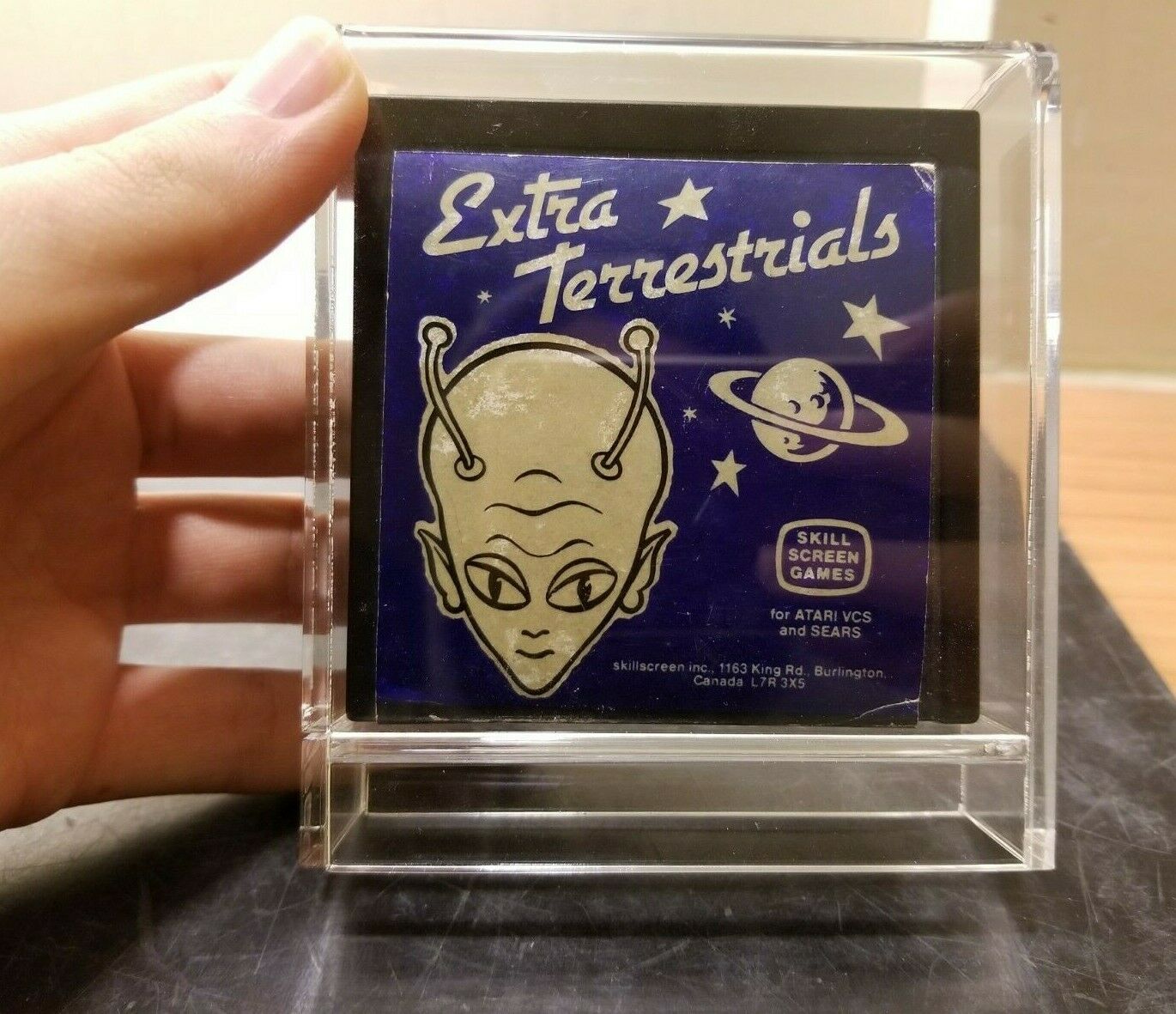 Got an extra $90,000 hanging around?! This copy of Extra Terrestrials could be yours!
This is the one and only opportunity to get your hands on one of the rarest video games of all time. This is a one of a kind 100% original and authentic Atari 2600 video game called Extra Terrestrials. This is the first time that this game has ever been listed publicly for sale to the world and I am currently the only confirmed private owner of this game right now. The only other discovered copies are held in a museum. One unique fact about this game is that it was first discovered in 2011, but considering its production date in 1984 it has avoided discovery for so long due to its rarity making it the "long lost video game". The original creator himself, Herman Quast, claimed that the production was extremely limited and only about a hundred or so copies were ever printed.

The game was made in 1984 by a company in Burlington Ontario called "Skill Screen Games". Three family members (Tom Banting, Peter Banting, Maitland Banting) along with programmer (Herman Quast) patented and invested their time and money in the game. Tom Banting owned a media company, Peter Banting was a marketing adviser and Herman was a computer programmer. They all contributed their expertise in order to develop an Atari 2600 game based on the popular E.T. movie by Steven Spielberg.

The team was in the development of finalizing the game targeting the Christmas market of 1983, however, production was delayed due to technical issues and the team lost the opportunity to make sales for Christmas. After finally finishing the game in 1984, the video game crash hit in which consumers weren't interested in home gaming systems since they had expensive price tags and didn't resemble the arcade experience. During this period, video games plummeted in price and big-name distributors were liquidating games by the hundreds just to get rid of inventory. With this bad timing, Herman and his team believed that there was no point in continuing production, consequently, they immediately stopped development in order to prevent further financial loss. By this time the team had already invested around $15,000 of their money and countless hours producing the game. In order to reduce their losses, they decided not to invest more money into marketing the game or supplying it to big-name distributors as they originally intended. Rather, they distributed the game manually door to door near their area to sell whatever copies they could to cover costs and expenses. This information was provided by the original producer Herman Quast himself who stated in an interview that this was a very bitter time in his life that he wants to forget.

Another unique aspect of this game as Syd Bolton (owner of PC Museum) stated is that it is the only commercially produced Canadian Atari 2600 game. It is an officially patented and approved Atari 2600 VCS and not a homebrew or reproduction of any kind. With it's historical and cultural significance, the method of distribution, unique cartridge size, low print run, it is regarded by many including "Racketboy's Rarest and Most Valuable Atari 2600 Games" as one of the rarest video games of all time. Today only 4 copies of this game are in existence and this copy is the only one in private hands. Furthermore, this game was inspired by the "worst video game ever made" the infamous E.T. for the Atari 2600, adding to its historical value.
via Polygon