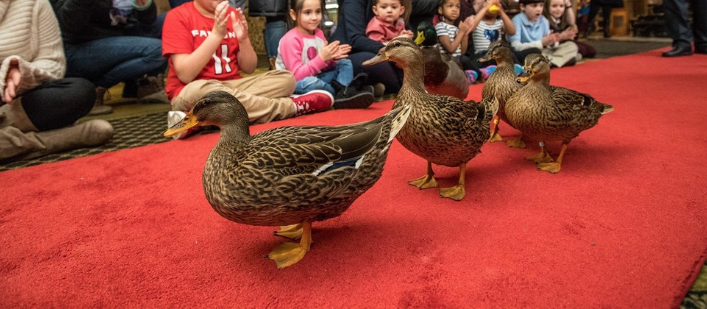 I just learned about something unusual and cool that happens every day at a hotel in Memphis, Tennessee. At the Peabody Memphis Hotel, some very special ducks are treated like ROYALTY!  I mean, they really roll out the red carpet for them… No, REALLY!! An actual RED CARPET! At 11 a.m. and again at 5 p.m., the hotel's Duckmaster leads the Peabody Ducks down the elevator to the Grand Lobby's Italian travertine marble fountain. The ducks then march through the crowds to the tune of John Philip Sousa's "King Cotton" and up a few stairs into the fountain. According to the hotel, it's been a tradition for nearly 90 years! 
WATCH:
There's even a song!!!
This video is from 2015:
Thanks, David!!